I'm pretty sure we've all had our fair share of Popchips, but I couldn't resist doing a review of the greatest chips known to (wo)man. I haven't tried or seen all of them, but of the ones I have, they're all delicious!
So... how are Popchips different than other chips? Well, for starters, they're not baked or fried. They're popped! (I'm seeing where the name came from...) And what is "popping"? Start with potatoes, add a little heat and pressure, and there you have it. Apparently, they have rice and corn chips as well, but I've never seen those.
All of the chips have a texture very similar to a regular potato chip. Popchips have a nice crunch, but no grease on the outside. You know how some chips leave you feeling "heavy"? Not with these. All in all, a very innocent snack.
I'll just list all of the potato flavors, in no particular order. :) I love them all.
Cheddar: Okay, I lied. So my favorite is going first. This flavor is just... awesome. It kind of tastes like someone baked really tangy mac cheese into the chip. It's kind of like the chip was dipped in a powdered form of mac cheese. <3
Salt and Vinegar: This flavor is definitely tangy! If you like that burst of vinegar flavor, go for these. I know some kinds of vinegar chips have a subtler taste, but this one is like WHAM!
Sour Cream and Onion: This flavor is somewhat milder than the other ones, but still very good. If you haven't noticed by now, I really like strong flavors. This chip would be perfect if it was more dominant over the potato taste.
Original: Like your regular old Lays chip, just healthier! I actually love this flavor when I need something a little bit calm in the taste bud zone. They are really salty though, and I like that.
Barbeque
:
There's somewhat of a spice to this chip... I do like the fact that it has an authentic barbeque taste, but it's kind of hot! Some of the people I've asked don't think so though, so maybe it's just me.
Parmesan Garlic: Never tried or seen! I wish I could find this flavor, it sounds great.
Salt and Pepper
:
I do see this flavor often, but I'm not a big pepper fan, so I just get the original.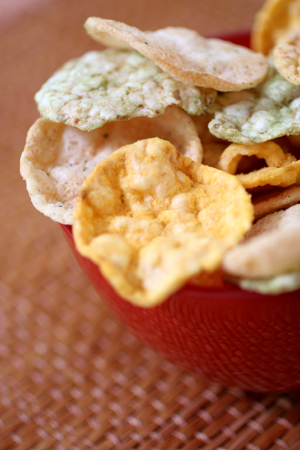 Sounding good, right? But how healthy are these chips? Well, they have 120 calories for every flavor, but the chip amount ranges from 19-22. That's quite a lot! They have around 4g of fat per serving, and around 20g of carbs. No saturated or trans fat, so that's good. There is also no cholesterol, preservatives, or artificial stuff. Yum!
Where can you get these? Lots of grocery stores actually have them, not just health food stores. I buy them at Whole Foods, Target, and sometimes ShopRite.
Price: Around $2.99 per bag.
Calories: 120 per serving
I'm feeling giveaway deprived... Got to win one soon. :)